At the end of December, we donated 220 books to Port-in-the-Storm. The books had been given to us by Lisa Libraries. The $240 shipping charge was paid through a private donation.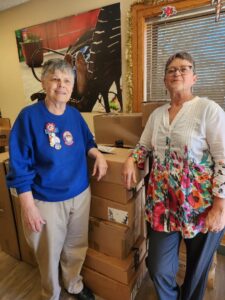 In December we held a Stuff the Stockings drive for the youth that are serviced by
St. Francis House & Port in the Storm
. Port in the Storm is a safe place off the streets for homeless/unaccompanied youth in crisis. Caring adults provide stability, hope and a path to successful future through Positive Youth Development programming. Located at 1375 Arapaho Avenue, day drop-in services are provided from 8 a.m. to 6 p.m. daily including life skills, basic needs, job skills, housing assistance and more. Port in the Storm also has 16 beds for those youth needing a place to stay. We collected donations through December 15th. Collected were gift cards, travel size toiletries, candy canes and holiday socks. People could donate the items through Amazon. We were able to stuff stockings for all of the guests and then some.