What a fun morning Altrusans had on April 22nd celebrating Earth Day and Literacy with the St Johns County Head Start Families and Staff at Breakfast in the Park.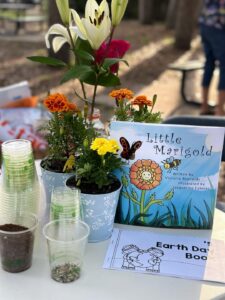 Altrusans read the book 'Little Marigold' by Victoria Reynolds to the children. In this story, Marigold becomes sad and lonely after she compares herself to the other flowers in the garden. Then a visit from Mother Nature changes everything. Little Marigold finds her gifts and her happiness too. We had a nice conversation with the children about how important everyone is.
The children planted marigold seeds in biodegradable, corn plastic cups filled with soil. The children took their planted seeds home with them. We explained to the children that the corn plastic was very different from other plastics – the corn plastic cup decomposes in 100 days.
The children also received personalized Earth Day coloring books and crayons. The pages in the coloring books had reminders for the children about the importance of protecting our environment – turning off the lights when leaving a room; using your own water bottle instead of bottled water.
At the end of the morning we raffled off a basket with family board games, tag! swag, and a family membership to the tag! Children's Museum opening in the summer of 2024. The value of the basket was $300.00. The basket had been part of the Silent Auction at our recent Fashion Show. The winner of the basket donated to the Head Start Program.
It was indeed a fantastic celebration of Earth Day and Literacy with wonderful Head Start Families and Staff; and, especially the Altrusans who joined in the celebration!!