In April 2021, Altrusa St. Augustine established a Little Free Library at 180 Oneida St. in St. Augustine – in the heart of the historic Lincolnville district of the city.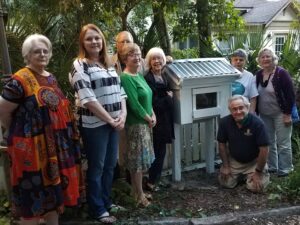 The location of the library in an ideal one where there is a lot of foot traffic – both from residents of the area and tourists. The Little Free Library provides access to books for those, who for some reason or other, may not always have that access. St. Johns County has several public libraries; but there may be those that may not have transportation to the library. Tourists, just passing by, may find an interesting read. Other folks may not have the funds to purchase books. We hope that our Little Library will provide that access and encourage a love of reading in others. Altrusa members will monitor the library to ensure that it is stocked with books for all ages.
Altrusa provided all the materials for the Little Free Library which was then constructed by the students of the Pedro Menendez High School Building Construction Program in the Academy of Architectural and Building Sciences. Mike Rosenberg is the teacher who leads these students. Over the years, the students have built several Little Libraries that are scattered throughout the county. The students have also rebuilt a Middle School's greenhouse damaged in one of the hurricanes. Mr. Rosenberg and his students enjoy working with organizations throughout the county to give the students practical experience in building construction. All the organizations have to do is ask and provide the materials.
Altrusa St. Augustine would like to extend a very special Thank You to members Louise and Brian Bowman who have so generously donated their front yard for our Little Library's location.
LITTLE FREE LIBRARY #2
In observance of International Literacy Day on September 8, 2022, Altrusans dedicated their second Little Free Library at 60 Comares Avenue in St. Augustine. This library, like our first library is located in a high foot traffic area – right across the street from the Conch House Marina and Salt Run.