You May Not Know Our Name…
         But You Know Our Work
Sometimes a small kindness can make a big difference.  Members of Altrusa
of St. Augustine enjoy doing simple "hands-on" projects that may seem effortless
but make the daily lives of the project recipients better in a significant way.
For instance: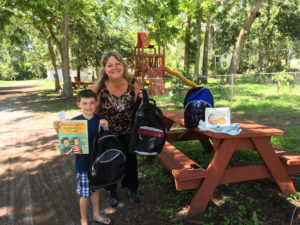 Pictured are Zachary and Debi Redding, Executive Director for the ESHC
The Sebastian Segui Books and Backpack Project
On behalf of Altrusa, Marci Segui and her family have delivered backpacks to the Emergency Services & Homeless Coalition of St. Johns County. Marci has also donated  baby décor and brought baby formula that that she received in the mail. There was one resident who was due any day and could use the baby items. So she found those items just in time for someone to use them. A lady in the office told Marci that "the children love reading the books from Altrusa". This project is a blessing for these children. This really warms our hearts knowing that this small act of kindness is making a difference for these children.
During Hurrican Matthew, Judith Dembowski, Director of St. Francis House, was presented a check in the amount of $1992.52 for replacement of 16 emergency sleeping cots.
The donation funds were the remaining contributions from the "Doin' It in Unity Soup Bowl" Lincolnville project. Major contributors were the Altrusa International Foundation, Slow LLC., Ann O'Malley's Deli and Pub, Altrusa of Lake City, our local Altrusa members and friends of Altrusa International of St. Augustine.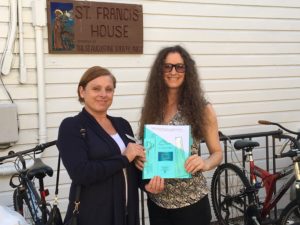 Marci Segui, Altrusa Treasurer, presents check to Judith Dembrowski, Director of St. Francis House